Computed below is the number of duplicated voter records in each locality as of the 11/06/21 VA Registered Voter List (RVL). The computation is based on performing an exact match of LAST_NAME, DOB and ADDRESS fields between records in the file.
Note: If the combination of the name "Jane Smith", with DOB "1/1/1980", at "12345 Some Road, Ln." appears 3 times in the file, there are 3 counts added to the results below. If the combination appears only once, there are 0 counts added to the results below, as there is no repetition.
Additionally I've done an even more restrictive matching which requires exact match on FIRST, MIDDLE and LAST name, DOB and ADDRESS fields in the second graphic and list presented below.
The first, more lenient, criteria will correctly flag multiple records with the same first or middle name, but misspelled such as "Muhammad" vs "Mahammad", but could also include occurrences of voting age twins who live together or spouses with the same DOB.
The second, more strict, criteria requires that multiple rows flagged have exactly the same spelling and punctuation for FIRST, MIDDLE, LAST, DOB and ADDRESS fields. This has less false positive, but more false negatives, as it will likely miss common misspellings between entries, etc.
There are no attempts to match for common misspellings, etc. I did do a simple cleanup for multiple contiguous whitespace elements, etc., before attempting to match.
I have summarized the data here so as not to reveal any personally identifiable information (PII) from the RVL in adherence to VA law.
Update 2022-07-13 12:30: I have sent the full information, for both the lenient and strict criteria queries, to the Prince William County and Loudoun County Registrars. The Loudoun deputy registrar has responded and stated that all but 1 of the duplications in the stricter criteria had already been caught by the elections staff, but he has not yet looked at the entries in the more lenient criteria results file. I have also attempted to contact the Henrico County, Lynchburg City, and York County registrars but have not yet received a response or request to provide them with the full data.
Update 2022-07-31 23:03: I have also heard back from the PWC Registrar (Eric Olsen). Most of the entries that I had flagged in the 11/6/2021 RVL list have already been taken care of by the PWC staff already. There were only a couple that had not yet been noticed or marked as duplicates. Also, per our discussion, I should reiterate and clarify that the titles on the plots below simply refer to duplicated entries of the data files according to the filtering choice. It is a technically accurate description and should not be read as I am asserting other than the results of the matching operation.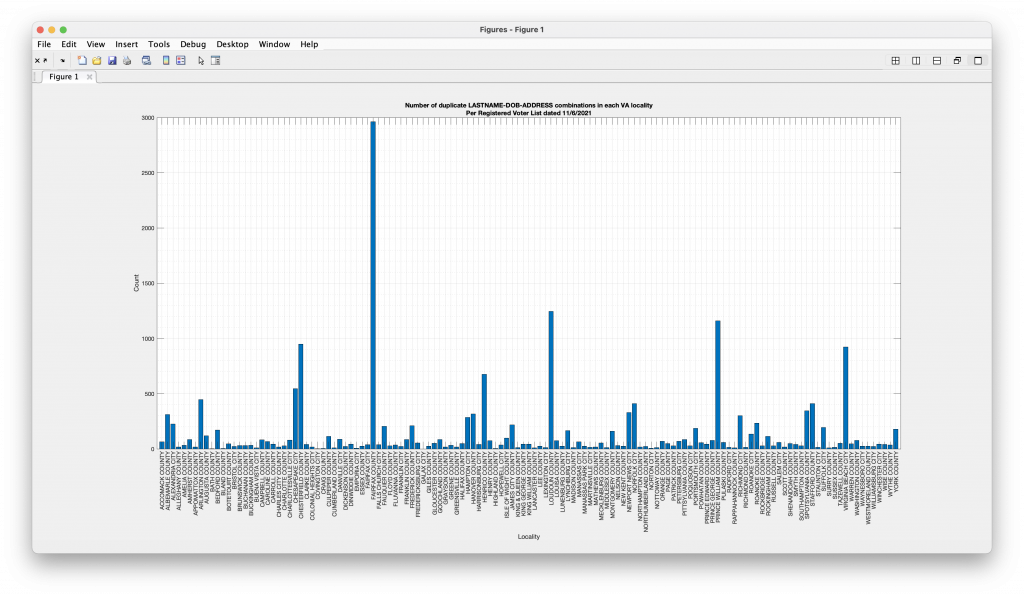 | | |
| --- | --- |
| Locality Name | Number of repeated entries |
| ACCOMACK COUNTY | 64 |
| ALBEMARLE COUNTY | 311 |
| ALEXANDRIA CITY | 225 |
| ALLEGHANY COUNTY | 16 |
| AMELIA COUNTY | 32 |
| AMHERST COUNTY | 84 |
| APPOMATTOX COUNTY | 18 |
| ARLINGTON COUNTY | 446 |
| AUGUSTA COUNTY | 119 |
| BATH COUNTY | 2 |
| BEDFORD COUNTY | 170 |
| BLAND COUNTY | 4 |
| BOTETOURT COUNTY | 45 |
| BRISTOL CITY | 22 |
| BRUNSWICK COUNTY | 30 |
| BUCHANAN COUNTY | 30 |
| BUCKINGHAM COUNTY | 32 |
| BUENA VISTA CITY | 10 |
| CAMPBELL COUNTY | 82 |
| CAROLINE COUNTY | 67 |
| CARROLL COUNTY | 42 |
| CHARLES CITY COUNTY | 18 |
| CHARLOTTE COUNTY | 28 |
| CHARLOTTESVILLE CITY | 80 |
| CHESAPEAKE CITY | 545 |
| CHESTERFIELD COUNTY | 948 |
| CLARKE COUNTY | 40 |
| COLONIAL HEIGHTS CITY | 18 |
| COVINGTON CITY | 2 |
| CRAIG COUNTY | 4 |
| CULPEPER COUNTY | 114 |
| CUMBERLAND COUNTY | 8 |
| DANVILLE CITY | 88 |
| DICKENSON COUNTY | 22 |
| DINWIDDIE COUNTY | 44 |
| EMPORIA CITY | 6 |
| ESSEX COUNTY | 25 |
| FAIRFAX CITY | 38 |
| FAIRFAX COUNTY | 2962 |
| FALLS CHURCH CITY | 39 |
| FAUQUIER COUNTY | 203 |
| FLOYD COUNTY | 28 |
| FLUVANNA COUNTY | 36 |
| FRANKLIN CITY | 23 |
| FRANKLIN COUNTY | 84 |
| FREDERICK COUNTY | 210 |
| FREDERICKSBURG CITY | 54 |
| GALAX CITY | 0 |
| GILES COUNTY | 24 |
| GLOUCESTER COUNTY | 52 |
| GOOCHLAND COUNTY | 84 |
| GRAYSON COUNTY | 18 |
| GREENE COUNTY | 32 |
| GREENSVILLE COUNTY | 16 |
| HALIFAX COUNTY | 48 |
| HAMPTON CITY | 285 |
| HANOVER COUNTY | 316 |
| HARRISONBURG CITY | 40 |
| HENRICO COUNTY | 676 |
| HENRY COUNTY | 74 |
| HIGHLAND COUNTY | 4 |
| HOPEWELL CITY | 34 |
| ISLE OF WIGHT COUNTY | 98 |
| JAMES CITY COUNTY | 217 |
| KING & QUEEN COUNTY | 13 |
| KING GEORGE COUNTY | 42 |
| KING WILLIAM COUNTY | 43 |
| LANCASTER COUNTY | 10 |
| LEE COUNTY | 24 |
| LEXINGTON CITY | 12 |
| LOUDOUN COUNTY | 1245 |
| LOUISA COUNTY | 74 |
| LUNENBURG COUNTY | 26 |
| LYNCHBURG CITY | 165 |
| MADISON COUNTY | 12 |
| MANASSAS CITY | 64 |
| MANASSAS PARK CITY | 24 |
| MARTINSVILLE CITY | 14 |
| MATHEWS COUNTY | 18 |
| MECKLENBURG COUNTY | 54 |
| MIDDLESEX COUNTY | 12 |
| MONTGOMERY COUNTY | 159 |
| NELSON COUNTY | 30 |
| NEW KENT COUNTY | 26 |
| NEWPORT NEWS CITY | 329 |
| NORFOLK CITY | 411 |
| NORTHAMPTON COUNTY | 18 |
| NORTHUMBERLAND COUNTY | 22 |
| NORTON CITY | 6 |
| NOTTOWAY COUNTY | 12 |
| ORANGE COUNTY | 70 |
| PAGE COUNTY | 47 |
| PATRICK COUNTY | 28 |
| PETERSBURG CITY | 68 |
| PITTSYLVANIA COUNTY | 84 |
| POQUOSON CITY | 28 |
| PORTSMOUTH CITY | 186 |
| POWHATAN COUNTY | 55 |
| PRINCE EDWARD COUNTY | 43 |
| PRINCE GEORGE COUNTY | 77 |
| PRINCE WILLIAM COUNTY | 1159 |
| PULASKI COUNTY | 59 |
| RADFORD CITY | 14 |
| RAPPAHANNOCK COUNTY | 10 |
| RICHMOND CITY | 300 |
| RICHMOND COUNTY | 14 |
| ROANOKE CITY | 133 |
| ROANOKE COUNTY | 233 |
| ROCKBRIDGE COUNTY | 28 |
| ROCKINGHAM COUNTY | 113 |
| RUSSELL COUNTY | 28 |
| SALEM CITY | 58 |
| SCOTT COUNTY | 18 |
| SHENANDOAH COUNTY | 48 |
| SMYTH COUNTY | 40 |
| SOUTHAMPTON COUNTY | 28 |
| SPOTSYLVANIA COUNTY | 345 |
| STAFFORD COUNTY | 410 |
| STAUNTON CITY | 14 |
| SUFFOLK CITY | 194 |
| SURRY COUNTY | 10 |
| SUSSEX COUNTY | 14 |
| TAZEWELL COUNTY | 52 |
| VIRGINIA BEACH CITY | 922 |
| WARREN COUNTY | 46 |
| WASHINGTON COUNTY | 78 |
| WAYNESBORO CITY | 26 |
| WESTMORELAND COUNTY | 24 |
| WILLIAMSBURG CITY | 22 |
| WINCHESTER CITY | 42 |
| WISE COUNTY | 40 |
| WYTHE COUNTY | 35 |
| YORK COUNTY | 178 |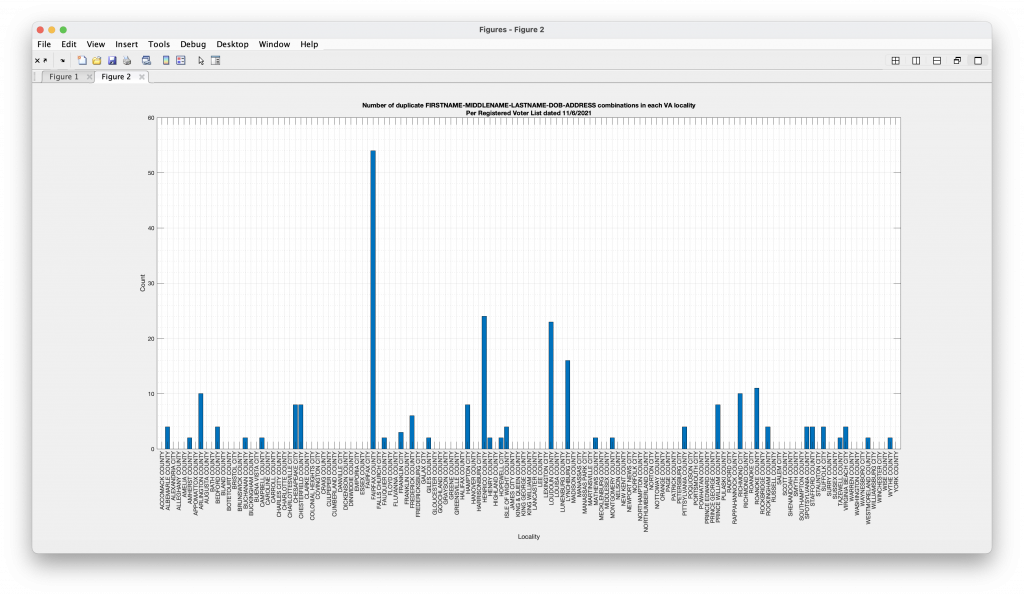 | | |
| --- | --- |
| Locality Name | Number of repeated entries |
| ACCOMACK COUNTY | 0 |
| ALBEMARLE COUNTY | 4 |
| ALEXANDRIA CITY | 0 |
| ALLEGHANY COUNTY | 0 |
| AMELIA COUNTY | 0 |
| AMHERST COUNTY | 2 |
| APPOMATTOX COUNTY | 0 |
| ARLINGTON COUNTY | 10 |
| AUGUSTA COUNTY | 0 |
| BATH COUNTY | 0 |
| BEDFORD COUNTY | 4 |
| BLAND COUNTY | 0 |
| BOTETOURT COUNTY | 0 |
| BRISTOL CITY | 0 |
| BRUNSWICK COUNTY | 0 |
| BUCHANAN COUNTY | 2 |
| BUCKINGHAM COUNTY | 0 |
| BUENA VISTA CITY | 0 |
| CAMPBELL COUNTY | 2 |
| CAROLINE COUNTY | 0 |
| CARROLL COUNTY | 0 |
| CHARLES CITY COUNTY | 0 |
| CHARLOTTE COUNTY | 0 |
| CHARLOTTESVILLE CITY | 0 |
| CHESAPEAKE CITY | 8 |
| CHESTERFIELD COUNTY | 8 |
| CLARKE COUNTY | 0 |
| COLONIAL HEIGHTS CITY | 0 |
| COVINGTON CITY | 0 |
| CRAIG COUNTY | 0 |
| CULPEPER COUNTY | 0 |
| CUMBERLAND COUNTY | 0 |
| DANVILLE CITY | 0 |
| DICKENSON COUNTY | 0 |
| DINWIDDIE COUNTY | 0 |
| EMPORIA CITY | 0 |
| ESSEX COUNTY | 0 |
| FAIRFAX CITY | 0 |
| FAIRFAX COUNTY | 54 |
| FALLS CHURCH CITY | 0 |
| FAUQUIER COUNTY | 2 |
| FLOYD COUNTY | 0 |
| FLUVANNA COUNTY | 0 |
| FRANKLIN CITY | 3 |
| FRANKLIN COUNTY | 0 |
| FREDERICK COUNTY | 6 |
| FREDERICKSBURG CITY | 0 |
| GALAX CITY | 0 |
| GILES COUNTY | 2 |
| GLOUCESTER COUNTY | 0 |
| GOOCHLAND COUNTY | 0 |
| GRAYSON COUNTY | 0 |
| GREENE COUNTY | 0 |
| GREENSVILLE COUNTY | 0 |
| HALIFAX COUNTY | 0 |
| HAMPTON CITY | 8 |
| HANOVER COUNTY | 0 |
| HARRISONBURG CITY | 0 |
| HENRICO COUNTY | 24 |
| HENRY COUNTY | 2 |
| HIGHLAND COUNTY | 0 |
| HOPEWELL CITY | 2 |
| ISLE OF WIGHT COUNTY | 4 |
| JAMES CITY COUNTY | 0 |
| KING & QUEEN COUNTY | 0 |
| KING GEORGE COUNTY | 0 |
| KING WILLIAM COUNTY | 0 |
| LANCASTER COUNTY | 0 |
| LEE COUNTY | 0 |
| LEXINGTON CITY | 0 |
| LOUDOUN COUNTY | 23 |
| LOUISA COUNTY | 0 |
| LUNENBURG COUNTY | 0 |
| LYNCHBURG CITY | 16 |
| MADISON COUNTY | 0 |
| MANASSAS CITY | 0 |
| MANASSAS PARK CITY | 0 |
| MARTINSVILLE CITY | 0 |
| MATHEWS COUNTY | 2 |
| MECKLENBURG COUNTY | 0 |
| MIDDLESEX COUNTY | 0 |
| MONTGOMERY COUNTY | 2 |
| NELSON COUNTY | 0 |
| NEW KENT COUNTY | 0 |
| NEWPORT NEWS CITY | 0 |
| NORFOLK CITY | 0 |
| NORTHAMPTON COUNTY | 0 |
| NORTHUMBERLAND COUNTY | 0 |
| NORTON CITY | 0 |
| NOTTOWAY COUNTY | 0 |
| ORANGE COUNTY | 0 |
| PAGE COUNTY | 0 |
| PATRICK COUNTY | 0 |
| PETERSBURG CITY | 0 |
| PITTSYLVANIA COUNTY | 4 |
| POQUOSON CITY | 0 |
| PORTSMOUTH CITY | 0 |
| POWHATAN COUNTY | 0 |
| PRINCE EDWARD COUNTY | 0 |
| PRINCE GEORGE COUNTY | 0 |
| PRINCE WILLIAM COUNTY | 8 |
| PULASKI COUNTY | 0 |
| RADFORD CITY | 0 |
| RAPPAHANNOCK COUNTY | 0 |
| RICHMOND CITY | 10 |
| RICHMOND COUNTY | 0 |
| ROANOKE CITY | 0 |
| ROANOKE COUNTY | 11 |
| ROCKBRIDGE COUNTY | 0 |
| ROCKINGHAM COUNTY | 4 |
| RUSSELL COUNTY | 0 |
| SALEM CITY | 0 |
| SCOTT COUNTY | 0 |
| SHENANDOAH COUNTY | 0 |
| SMYTH COUNTY | 0 |
| SOUTHAMPTON COUNTY | 0 |
| SPOTSYLVANIA COUNTY | 4 |
| STAFFORD COUNTY | 4 |
| STAUNTON CITY | 0 |
| SUFFOLK CITY | 4 |
| SURRY COUNTY | 0 |
| SUSSEX COUNTY | 0 |
| TAZEWELL COUNTY | 2 |
| VIRGINIA BEACH CITY | 4 |
| WARREN COUNTY | 0 |
| WASHINGTON COUNTY | 0 |
| WAYNESBORO CITY | 0 |
| WESTMORELAND COUNTY | 2 |
| WILLIAMSBURG CITY | 0 |
| WINCHESTER CITY | 0 |
| WISE COUNTY | 0 |
| WYTHE COUNTY | 2 |
| YORK COUNTY | 0 |